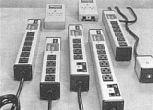 VCN Series
The VCN series protects computer equipment and home electronics from harmful surges and spikes. EMI/RFI noise filtration is standard along with a lifetime warranty. Phone line protection is also available.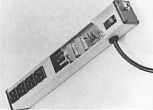 BN Series
BN Series Surge Protectors are hybrid surge & noise protectors that provide 6 stage protection. They provide the ultimate in full surge protection. The BN Series provides the most extensive network of clamping and filtering components in the industry.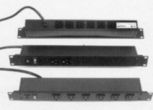 RackMount Series
The Rackmount Series units are designed to fit standard 19 inch rack and cabinets. They have a solid steel construction and "ears" for easy mounting.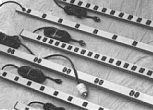 Ind. Grade Outlet Strips (15 AMP)
These Industrial Grade Outlet Strips are designed for industrial applications to get power to where you need it most.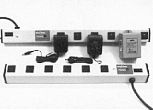 90 Degree Series
The 90 Degree Series is designed with space in mind. Each unit has its receptacles turned 90 degrees to accommodate larger plugs or transformers. Two levels of surge protection available.
Unconditional lifetime warranty • $50,000 Equipment Warranty • FAIL SAFE Circuit • 15 Amp Resettable Circuit Breaker • UL 1449 TVSS (330 V Rated) • 15 Amp Circuit Breaker • Complete EMI/RFI Noise Filtering • Lighted On/Off Switch • Suppressor Indicator Light • Clip Mounting – Supplied • 6 Stage High Energy Surge Suppressor • Complete SINE WAVE Clamping
| | | | | |
| --- | --- | --- | --- | --- |
| Model Number | Outlets | Cord Length | Housing | FAX/Modem Protection |
| BPS VCN2 | 2 | | Plastic – Putty Color | No |
| BPS VCN2-FAX | 2 | | Plastic – Putty Color | Yes |
| BPS VCN2-4FAX | 2 | 6 | Aluminum | Yes |
| BPS VCN4-6 | 4 | 6 | Aluminum | No |
| BPS VCN4-15 | 4 | 15 | Aluminum | No |
| BPS VCN6-6 | 6 | 6 | Aluminum | No |
| BPS VCN6-15 | 6 | 15 | Aluminum | No |
| BPS VCN4-FAX | 4 | 6 | Aluminum | Yes |
| BPS VCN6-FAX | 6 | 6 | Aluminum | Yes |
| BPS VCNRS6-6 | 6 | 6 | Aluminum | No |
| BPS VCNRS6-15 | 6 | 15 | Aluminum | No |
Unconditional lifetime warranty • $25,000 Equipment Warranty • UL 1449 TVSS (330 V Rated) • 3 Stage Surge Suppressor • EMI/RFI Noise Filtering •  15 Amp Circuit Breaker • Lighted On/Off Switch • Suppressor Indicator Light •  Clip Mounting – Supplied
| | | | |
| --- | --- | --- | --- |
| Model Number | Outlets | Cord Length | FAX/Modem Protection |
| BPS BN4-6 | 4 | 6 | No |
| BPS BN4-15 | 4 | 15 | No |
| BPS BN6-6 | 6 | 6 | No |
| BPS BN6-15 | 6 | 15 | No |
| BPS BN4-FAX | 4 | 6 | Yes |
| BPS BN6-FAX | 6 | 6 | Yes |
| BPS BNRS6-6 | 6 | 6 | No |
| BPS BNRS6-15 | 6 | 15 | No |
Slim Line Outlet Strips(15 AMP)
Resettable Circuit Breaker • 15 Amp, 125 Volt • UL 1363 Approved • Streamlined Slim Aluminum Stance • Grey Finish • Spring Clip Mounting
| | | | | | |
| --- | --- | --- | --- | --- | --- |
| Model Number | Outlets | Outlet Spacing | On/Off Switch | Cord Length | Dimensions |
| BPS SL 77-12-15 | 12 | 5 | No | 15 | 70×1-1/2×1-3/8 |
| BPS SL 48-10-6 | 10 | 4 | No | 6 | 48×1-1/2×1-3/8 |
| BPS SL 48-10-15 | 10 | 4 | No | 15 | 48×1-1/2×1-3/8 |
| BPS SL 70-11-6 | 11 | 6 | No | 6 | 70×1-1/2×1-3/8 |
| BPS SL 70-11-15 | 11 | 6 | No | 15 | 70×1-1/2×1-3/8 |
| BPS SL 77-12-6 | 12 | 5 | No | 6 | 77×1-1/2×1-3/8 |
Steel Construction • Standard 19 inches Long • Black Finish • Resettable Circuit Breaker • 15 Amp, 125 Volt • Lifetime Warranty
| | | | |
| --- | --- | --- | --- |
| Model Number | Outlets | Lighted On/Off Switch | Cord Length |
| RM100 | 6 | No | 6 |
| RM110 | 6 | No | 15 |
| RM120 | 6 | Yes | 6 |
| RM130 | 6 | Yes | 15 |
| RM200 | 6 | No | 6 |
| RM210 | 6 | No | 15 |
| RM220 | 6 | Yes | 6 |
| RM230 | 6 | Yes | 15 |
| RM300 | 6 | No | 6 |
| RM310 | 6 | No | 15 |
| RM320 | 6 | Yes | 6 |
| RM330 | 6 | Yes | 15 |
| RMS 500 | 6 | No | 6 |
| RMS 510 | 6 | No | 15 |
| RMS 520 | 6 | Yes | 6 |
| RMS 530 | 6 | Yes | 15 |
Industrial Grade Outlet Strips (15 AMP)
Unconditional lifetime warranty • Resettable Circuit Breaker • 15 Amp, 125 Volt • Industrial Grade Aluminum • Grey or Putty Finish • UL 1363 Approved • SNAP & Slide Mounting
| | | | | | |
| --- | --- | --- | --- | --- | --- |
| Model Number | Outlets | Outlet Spacing | Lighted On/Off Switch | Cord Length | Dimensions |
| BPS 12-6-6 | 6 | 1-1/4 | No | 6 | 12-1/4x2x1-3/4 |
| BPS 12-6-15 | 6 | 1-1/4 | No | 15 | 12-1/4x2x1-3/4 |
| BPS 12-6-6S | 6 | 1-1/4 | Yes | 6 | 12-1/4x2x1-3/4 |
| BPS 12-6-15S | 6 | 1-1/4 | Yes | 15 | 12-1/4x2x1-3/4 |
| BPS 13-7-6 | 7 | 1-1/4 | No | 6 | 13x2x1-3/4 |
| BPS 13-7-15 | 7 | 1-1/4 | No | 15 | 13x2x1-3/4 |
| BPS 13-7-6S | 7 | 1-1/4 | Yes | 6 | 13x2x1-3/4 |
| BPS 13-7-15S | 7 | 1-1/4 | Yes | 15 | 13x2x1-3/4 |
| BPS 13-8-6 | 8 | 1-1/4 | No | 6 | 13x2x1-3/4 |
| BPS 13-8-15 | 8 | 1-1/4 | No | 15 | 13x2x1-3/4 |
| BPS 13-8-6S | 8 | 1-1/4 | Yes | 6 | 13x2x1-3/4 |
| BPS 13-8-15S | 8 | 1-1/4 | Yes | 15 | 13x2x1-3/4 |
| BPS 24-8-6 | 8 | 2 | No | 6 | 24x2x1-3/4 |
| BPS 24-8-15 | 8 | 2 | No | 15 | 13x2x1-3/4 |
| BPS 24-8-6S | 8 | 2 | Yes | 6 | 13x2x1-3/4 |
| BPS 24-8-15S | 8 | 2 | Yes | 15 | 13x2x1-3/4 |
| BPS 48-8-6 | 8 | 5-1/4 | No | 6 | 48x2x1-3/4 |
| BPS 48-8-15 | 8 | 5-1/4 | No | 15 | 48x2x1-3/4 |
| BPS 48-8-6S | 8 | 5-1/4 | Yes | 6 | 48x2x1-3/4 |
| BPS 48-8-15S | 8 | 5-1/4 | Yes | 15 | 48x2x1-3/4 |
| BPS 48-16-6 | 16 | 2-1/2 | No | 6 | 48x2x1-3/4 |
| BPS 48-16-15 | 16 | 2-1/2 | No | 15 | 48x2x1-3/4 |
| BPS 48-16-6S | 16 | 2-1/2 | Yes | 6 | 48x2x1-3/4 |
| BPS 48-16-15S | 16 | 2-1/2 | Yes | 15 | 48x2x1-3/4 |
| BPS 72-12-6 | 12 | 5-1/4 | No | 6 | 72x2x1-3/4 |
| BPS 72-12-15 | 12 | 5-1/4 | No | 15 | 72x2x1-3/4 |
| BPS 72-12-6S | 12 | 5-1/4 | Yes | 6 | 72x2x1-3/4 |
| BPS 72-12-15S | 12 | 5-1/4 | Yes | 15 | 72x2x1-3/4 |
| BPS 72-20-6 | 20 | 3-1/4 | No | 6 | 72x2x1-3/4 |
| BPS 72-20-15 | 20 | 3-1/4 | No | 15 | 72x2x1-3/4 |
| BPS 72-20-6S | 20 | 3-1/4 | Yes | 6 | 72x2x1-3/4 |
| BPS 72-20-15S | 20 | 3-1/4 | Yes | 15 | 72x2x1-3/4 |
| BPS 9-4-6 | 4 | 1-1/4 | No | 6 | 9-3/16x2x1-3/4 |
| BPS 9-4-15 | 4 | 1-1/4 | No | 15 | 9-3/16x2x1-3/4 |
| BPS 9-4-6S | 4 | 1-1/4 | Yes | 6 | 9-3/16x2x1-3/4 |
| BPS 9-4-15S | 4 | 1-1/4 | Yes | 15 | 9-3/16x2x1-3/4 |
| BPS 9-5-6 | 5 | 1-1/4 | No | 6 | 9-3/16x2x1-3/4 |
| BPS 9-5-15 | 5 | 1-1/4 | No | 15 | 9-3/16x2x1-3/4 |
| BPS 9-5-6S | 5 | 1-1/4 | Yes | 6 | 9-3/16x2x1-3/4 |
| BPS 9-5-15S | 5 | 1-1/4 | Yes | 15 | 9-3/16x2x1-3/4 |
Industrial Grade Outlet Strips (20 AMP)
Industrial Grade Aluminum • UL 1363 Approved • SNAP & Slide Mounting • Grey Finish • 20 Amp, 125 Volt • 20 Amp Circuit Breaker • Custom Models Available on Request
| | | | |
| --- | --- | --- | --- |
| Model Number | Outlets | Cord Length | Dimensions |
| BPS 10-4-6 (20A) | 4 | 6 | 10-1/4x2x1-3/4 |
| BPS 10-4-15 (20A) | 4 | 15 | 10-1/4x2x1-3/4 |
| BPS 13-6-6 (20A) | 6 | 6 | 13-1/4x2x1-3/4 |
| BPS 13-6-15 (20A) | 6 | 15 | 13-1/4x2x1-3/4 |
| BPS 24-8-6 (20A) | 8 | 6 | 24-1/4x2x1-3/4 |
| BPS 24-8-15 (20A) | 8 | 15 | 24-1/4x2x1-3/4 |
| BPS 48-10-6 (20A) | 10 | 6 | 48-1/4x2x1-3/4 |
| BPS 48-10-15 (20A) | 10 | 15 | 48-1/4x2x1-3/4 |
| BPS 72-12-15 (20A) | 12 | 15 | 72-1/4x2x1-3/4 |
Unconditional lifetime warranty • 6 Outlets Standard • Two Levels of Surge Protection • Heavy Duty Aluminum Construction • UL 1363 or UL 1449 TVSS (330 volt) • 6 Foot Cord Standard
| | | | | |
| --- | --- | --- | --- | --- |
| Model Number | Outlets | Protection Level | Surge Indicator | Lighted On/Off Switch |
| BPS VCN6-6 90deg | 6 | standard | Yes | Yes |
| BPS BN6-6 90deg | 6 | multi-stage-hybrid | Yes | Yes |
Special Application Outlet Strips
Unconditional lifetime warranty • Resettable Circuit Breaker • SNAP & Slide Mounting • UL 1363 or UL 1449 TVSS (330 volt) • 4 and 6 Outlets • Special UL 498 Duplexes and Plugs • White or Gray Finish
| | | | | | |
| --- | --- | --- | --- | --- | --- |
| Model Number | Outlets | Outlet Spacing | Lighted On/Off Switch | Cord Length | Dimensions |
| BPS HG4-6 | 4 | 1-1/2 | No | 6 | 10x2x1-3/4 |
| BPS HG4-15 | 4 | 1-1/2 | No | 15 | 10x2x1-3/4 |
| BPS HG6-6 | 6 | 1-1/2 | No | 6 | 13x2x1-3/4 |
| BPS HG6-15 | 6 | 1-1/2 | No | 15 | 13x2x1-3/4 |