Marcellus L. Joslyn personified the American dream. In 1893 when Marcellus was a student at Harvard Law School, he built his own telephone line to his parents' home. He then established Citizens Telephone. In 1910, Marcellus opened a second company, Joslyn Mfg. & Supply Co., to manufacture telephone pole line hardware.

the early 1950's, Joslyn worked with several airframe manufacturers and the Lightning and Transient Institute of Minneapolis to address post WW II concerns of lightning and electro-magnetic pulse (EMP) impacts on aircraft HF radios. The resulting designs, which are still used today, lead Joslyn into the manufacture of specialty Gas Discharge Tube (GDT) products.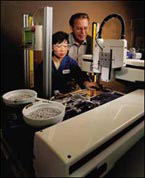 In 1964, the modern-day Joslyn Electronics Systems Corporation (JESC) opened at the Santa Barbara Research Park in California. Over the next several years, Joslyn
recruited the best electronics engineers to design and develop full product lines. After gaining recognition as the leading supplier of aircraft lightning arresters, Joslyn quickly gained recognition as the leader in electrical surge and transient protection for power, communications, transportation and industrial process control.
Joslyn® products are manufactured and supported by Danaher Power Solutions (NYSE: DHR). For over 60 years, the Joslyn brand has been recognized as the leading name in power, signal, and communications protection. Since gaining recognition as the world's leading supplier of aircraft lightning arresters (currently installed on Air Force One), Joslyn has become the global leader in providing innovative technology, design, manufacturing, and distribution of AC & DC power surge protection products.
Our complete end-to-end product solutions address a multitude of applications for telephony and data line protection for use in Central Offices, Building Entrances, Transportation, Industrial Process Control, Military, and the Customer Premise.
Based in Richmond, Virginia, Joslyn's production facilities, engineering, quality control, customer service, and shipping are located under one roof. This enables Joslyn to provide fast response times and ensure the highest level quality products available, on-time delivery, and knowledgeable customer service.